Once Pettitte retired two years ago, I always had a feeling he'd be back.  Like so many athletes, like so many Yankees, he couldn't quit the game cold turkey.
And so here he is, #46 Andy Pettite, one of my favorite players growing up, coming back as a Yankee after signing a minor-league deal a few days ago.
Pettitte is definitely rusty and not going to be ready for the start of the season, so the question that remains is where he is going to fit in during the season.  The Yankees already have a pitching staff that includes their #1 ace CC Sabathia, newly acquired pitchers Hiroki Kuroda and Michael Pineda, Ivan Nova, and Freddy Garcia.
So where is there room for Pettitte?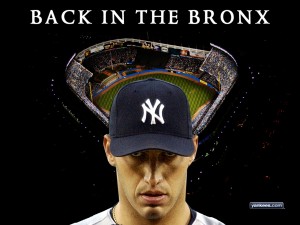 After all of the offseason acquisitions, the Yankees are still clearly concerned about their pitching staff.
By signing Pettitte, the Yankees not only are saying they plan on handing him a rotation spot eventually, they're saying they plan on taking one away from the current candidates due to their rotation depth.  Everyone knows that CC Sabathia and Hiroki Kuroda have guaranteed spots.  Most people would think Pineda and Nova have spots but due to their young age, they may not.
All of their young starters, including Pineda, Nova, and let's not forget, Phil Hughes, could get sent to the minor leagues.  But most likely, the rotation throughout the season will be Sabathia, Kuroda, Nova, Pineda, and Garcia/Hughes.  With Pettitte in the mix, manager Joe Girardi has a lot of decisions to make with a flexible rotation this season.
This is by far the best rotation (on paper) the Yankees have had in years.  For a team that's known for its offense, they should have among the best rotations in baseball.  Let's go Yankees!