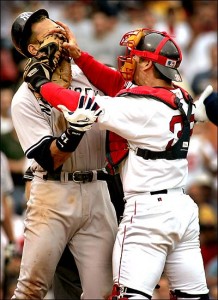 I'll be honest.  By the 5th inning this game was over.  With the Red Sox up 9-0 after 5 innings it was painful to watch.  By that point, Yankees starter Freddy Garcia had pitched just 1.2 innings and gave up seven hits and five earned runs.  The bullpen then surrendered another four earned runs, increasing the Red Sox lead.
Then Mark Teixera homered for the Yankees, making it 9-1.  I didn't make much of it, but it apparently started the Yankees run.
"You're down 9-0 and Tex hits what looks like an innocent home run. Then we come back with back-to-back seven-run innings," Yankees manager Joe Girardi said after New York rallied to beat Boston 15-9. "I don't think I've ever been a part of that."
Nick Swisher hit a grand slam in the seventh to help the Yankees erase a 9-0 deficit, then added a two-run double in the eighth to give them the lead. The comeback matched the franchise's largest deficit overcome in a win, done five times.
Teixeira had six RBIs, homering from both sides of the plate for the 13th time in his career.
"That was pretty cool," Teixeira said. "I've played a lot of games, and that may be the most fun regular-season game I've ever been a part of."
Teixeira homered twice, the second a three-run shot in the seven-run seventh that cut the deficit to 9-8. Swisher, who also had six RBIs, hit a two-run double off the center field wall in the eighth to make it 10-8.
The Yankees added five more as Red Sox manager Bobby Valentine used three pitchers — including closer Alfredo Aceves (0-1), who allowed five runs and failed to record an out — to get out of the inning.
Rafael Soriano (2-0) pitched one inning of scoreless relief.
It was Boston's second consecutive loss to the rival Yankees, each of them heart-breaking in its own way. Friday's 6-2 loss cast a pall over the feel-good 100th anniversary celebration, but the sequel on Saturday exposed the bullpen and had the hometown fans booing Valentine just 14 games into his Red Sox career.
Valentine tipped his capped to the fans as they booed him when he walked back from making a pitching change in the eighth.
"I've been booed in a couple of countries, a few different stadiums. I don't want to be booed," said Valentine, who was asked if he had any regrets about leaving broadcasting to take the Red Sox job. "If they said it was only going to be for the good days, I probably wouldn't have come. The challenges are great."
Swisher put the Yankees up 10-9 with a drive off the center field wall. There was still nobody out in the inning when Teixeira added a two-run double; Russell Martin added a two-run, two-out double and Derek Jeter was given an RBI single that made it 15-9 when shortstop Aviles slipped and fell on his rear end as he went to throw to first.
This is the type of baseball you expect from the Yankees, especially in games against their biggest rival, the Boston Red Sox.
The Yankees now improved to 9-3 in their past 12 games since they were swept in the season-opening series by the Tampa Bay Rays.