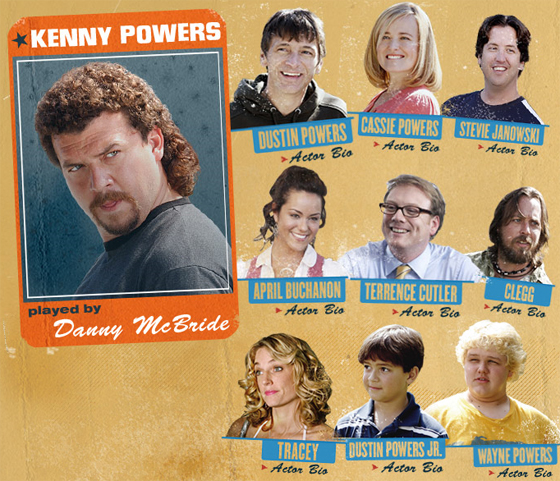 That's right Eastbound & Down fans, Kenny "F*ckin" Powers has decided to end his illustrious, or should I say disturbed baseball career for good this time.
If you don't know who Kenny Powers is, you must not know the game of baseball and shouldn't be reading this article.  Powers has been one of the most controversial pitchers in the game of baseball for years, and even more than Babe Ruth at his time.
Only kidding.
Of course, Kenny Powers is just a fictional character on the HBO hit series "Eastbound & Down" played by actor Danny McBride.  Powers is a former professional baseball pitcher, who after an up and down career in the major leagues is forced to return to his hometown of Shelby, North Carolina, desperate for a return to the big leagues.
Powers is an out of shape, bad-tempered drunk who thinks he's better than he really is, and thinks he is still a celebrity in not just his hometown, but the nation as well.  McBride is stellar in his role as Powers, as the show has taken some crazy and outrageously hysterical turns during the three seasons it has aired.
Tonight was the series finale, as the crude show has finally come to an end.
So let us do a brief review.
In Season One, Powers is hired as a middle-school gym coach in his hometown.  That basically says it all right there.  In Season Two, Powers ends up in Mexico, and goes from outlaw-gangster to star pitcher in the Mexican leagues.  Season three leads him back to the minors in Myrtle Beach, where he becomes the "leader" of the minor league team The Mermen, which is his best shot back to the majors.
Plenty of crazy shit happens within each season, as some things are impossible, or too disturbing to explain.  From the outrageous outbursts of Powers, to the random elements added to the show and its supporting cast (including Will Ferrell), the show's creativeness will surely be missed.
But there is really only so much Kenny Powers you can take in three years, as each of the past two seasons did not seem to duplicate the first season's success.  I believe that any Eastbound & Down fan would agree; nothing comes even close to the epic first season.
Since I can't even describe what went on in each season, it's appropriate to show a true "Best of Kenny Powers and Eastbound & Down."
As Kenny Powers would say, Eastbound & Down, "YOU'RE F*CKIN OUT!!!!"