No one can be trusted or counted on more than Mariano Rivera to close out a game in the 9th inning.  That's why he is the best closer the game has ever seen.
But Friday afternoon Rivera blew a rare save opportunity in the 9th inning, giving up the game-deciding single to Rays first baseman Carlos Pena, who lifted the Tampa Bay Rays to a thrilling 7-6 season-opening victory over the New York Yankees.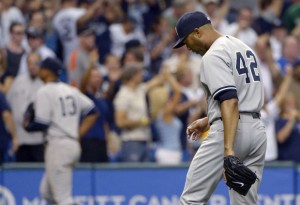 It was Pena's day alright, who is usually a Yankee killer.  He finished the day 3 for 5 with five RBIs in his first game back as a Ray, after having a one-season stint with the Cubs last season.  He also hit a grand slam off Yankees ace C.C. Sabathia in the first inning.
Rivera had been 60 of 61 in save chances against the Rays.  But afterDesmond Jennings opened the ninth with a single against baseball's career saves leader, Ben Zobrist tripled home the tying run.
The 42-year-old Yankees closer intentionally walked the next two batters to load the bases and struck out Sean Rodriguez. Pena, who was 0 for 11 lifetime against Rivera, won it by driving a 1-2 pitch off the base of the wall in left-center field for his fifth RBI of the game.
Blown saves are rare to come by with Rivera, who knows he can move on from the opening day loss.
"My fault. I felt good. I don't make excuses," said Rivera, whose other blown save against the Rays came in 2005. "I just left the ball up," he said.
It's a crazy thought that Rivera is now in his 18th season, who prior to this blown save, had converted 27 straight against the Rays.
"When you see him blow one, it's shocking. It's going to happen. It happened. It's baseball," Yankees manager Joe Girardi said. "He got a couple pitches up. He got one up to Jennings, and he got one up to Zobrist. That kind of led to the inning."
Yankees starting pitcher C.C. Sabathia ended up pitching six innings and giving up five runs, four of them from the first inning on Pena's grand slam.
Sabathia was not sharp in his season debut, who also gave up three walks and seven strikeouts, while throwing 104 pitches.
After the first inning nightmare, Sabathia settled down as the Yankees took a 6-4 lead after newly-acquired outfielder Raul Ibanez hit a three-run homerun in his Yankee debut.
From there, the Yankees took a 6-5 lead into the ninth, and then Pena ended up winning it for the Rays.
Rivera and the Yankees have been there plenty of times before, as it's a long season.
Only 161 games to go.  It feels great th it's baseball season!