There's just no way this can happen.
I can't even imagine this happening again.  Could it be?  No way.
Could Isiah Thomas make yet another return to the organization he singlehandedly ruined from 2003-2008?
Unfortunately, it's possible.  It's actually very possible.
Yikes!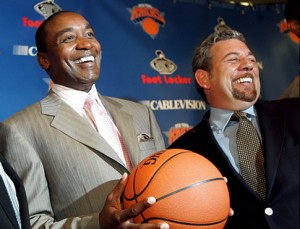 To even have a thought of this guy entering Madison Square Garden once again, or the whole city of New York for the matter, gets me worried and sick my stomach.
So let's review what has happened.  It's been less than 24 hours since Thomas was fired by FIU, and the media is already blowing up this story about a possible return to the Knicks.
Frank Isola of the New York Daily News believes Thomas, the Knicks former president and coach, will inevitably return in some role.  Another reporter, Marc Berman of the New York Post, thinks Thomas won't be back at Madison Square Garden in any official capacity.
So who knows, but this much is clear.  No one is arguing or making a point to bring him back.
For someone who ruined the Knicks throughout the 2000s, why would it make sense for the Knicks to bring him back under some capacity?  The answer is because of his strong ties and friendship with owner James Dolan.
Supposedly, Thomas has served as an unofficial consultant to Dolan for three years after he was fired in 2008. Dolan himself admitted as much when his attempt to hire Thomas fell through in 2010.
"Although I'm disappointed that Isiah will not be working with the Knicks as a consultant, I continue to believe in his basketball knowledge, including his ability to judge talent," the Knicks' owner said in a statement released after Thomas rescinded his contract with the team. "He's a good friend of mine and of the organization and I will continue to solicit his views. He will always have strong ties to me and the team."
Thomas later told ESPN in November 2010 that he thought about running the Knicks again, "every day of the week."
I'm starting to cringe right now and hopefully all of this will blow over.  We are looking pretty good as a team right now and in the thick of the playoff race.  There is tremendous talent on this team, as the Knicks are on their way up to becoming a great team in the Eastern Conference.
As a die-hard Knicks fan, this move better not [expletive] happen, and I speak for every Knicks fan.