After everything he has done this season for the Knicks, the Defensive Player of the Year candidate finally got a day off Sunday against the Atlanta Hawks.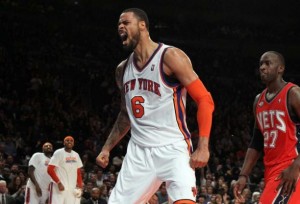 With a playoff spot clinched already for the Knicks, Tyson Chandler took a breather against the Hawks  and could be shut down for the final two games as well.  Even though the Knicks are still trying to nail the sixth seed, Chandler is still getting much-needed rest.
Until Sunday, Chandler had missed only two games and, in a season constantly interrupted by injuries to key players, he's been one of the most dependable of Knicks. Chandler has even played in pain for long stretches.
But the creaky wrist and balky knee, neither of which are considered anything more than annoying and nagging, have taken their toll, along with his lungs. Chandler is the Knicks' only true defender, especially on the front line, and so his value becomes a bit heavier for the playoffs, where defense and physical play becomes the standard. Therefore it was an easy call for Mike Woodson.
"He's not really banged up. Just tired," Woodson said. "We went through seven (games) in 11 days and he went through some significant minutes in that stretch, which we needed him to. He asked for a break so I'm going to allow that to happen. He's deserved it."
The season still holds a bit of intrigue, so any major lineup changes by the Knicks could impact where they finish. They remain tied record-wise, but the Knicks hold the tiebreaker over the Sixers for the seventh seed.  This head-to-head with the Sixers for the 7th and 8th seeds could determine whether they get the Heat or Bulls in the first round. Debate if you will about which would be the more favorable matchup, but the Knicks, according to Woodson, will play with the intention of winning out the season.
That said, the decision about whether rest for Chandler carries more weight than playoff positioning has been made.
"For him, it is (more important)," said Woodson, "because he's going to log some big (playoff) minutes for us."
Jared Jeffries will be shut down for the remaining two games, too. He's dealing with knee issues he says are a result of "10 years in the league" but expects to be ready for next weekend.
"It wasn't like I was playing a lot of minutes, anyway," he said. "I was just holding it down until Amare (Stoudemire) got back."