Ivan Nova's winning streak as a pitcher has been impressive the past two seasons, as it is now up to 14 in a row after last night's win over the Angels.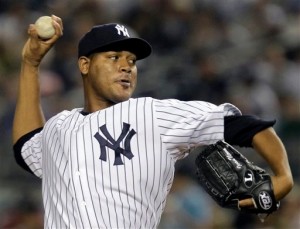 The 11-5 victory was a fairly easy for Nova and the Yankees, as the offense was on point last night thanks to Derek Jeter's three-run homer to extend his fast start.  The 37-year-old captain is 15 for 41 (.366) with six extra-base hits.
Raul Ibanez added a titanic homer and Jeter also doubled during a four-run rally to help the Yankees take two of three in an early series between high-priced teams expected to challenge for the American League pennant.  The Angels are far from an easy team, but the Yankees are showing that their bats are still among the best in the league.
The Yankees spoiled the season debut of Jerome Williams (0-1), chased in the third inning, while sending Albert Pujols and the Angels to their sixth defeat in eight games.
Fighting a cold and fever (damn, allergies), Nova (2-0) struck out eight over six innings. Often the beneficiary of big run support, the 25-year-old right-hander hasn't lost in the regular season since the Angels beat him 3-2 on June 3.
According to Yahoo! Sports, Nova's winning streak ties Hall of Famer Whitey Ford and Steve Sundra (1938-39) for the second-longest by a Yankees pitcher since 1920. Roger Clemens won 16 straight in 2001, and became the first pitcher in Major League history to start a season 20-1 (he finished the season 20-3).
The crazy part about this winning streak is that Nova was actually demoted to the minors during his winning streak – where he lost twice for Triple-A Scranton/Wilkes-Barre last July. He finished 16-4 with a 3.70 ERA as a rookie last season.
Nova claims it's all about winning each start, with the winning streak coming secondary.
"I'm not worried about a winning streak. I just want to take the ball every five days," Nova said. "I don't pay attention to that stuff."
The Yankees have now won 5 of 6 games since starting the season 0-3.  Of course it's early, but it's great to see the Yankees play excellent baseball early on.
Freddy Garcia gets the start tonight against former Yankee bust Carl Pavano, as the Yankees begin a four-game series with the Minnesota Twins.