Last Wednesday, Knicks head coach Mike D'antoni "resigned," really meaning he was forced out of New York.  All I have to say is FINALLY.  Honestly, I never wanted this guy to be coaching the Knicks in the first place.
Back after the nauseating and depressing Isiah Thomas-era, the Knicks hired D'antoni to turn around the Knicks and bring his winning ways from Phoenix over to New York.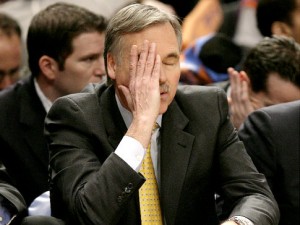 Except that never really happened.
In his first two seasons with the Knicks, he finished with a combined record of 63-103.  He got a free pass for those seasons, because the Knicks were rebuilding and building up cap space to sign Lebron James, which never happened.  Instead we signed Amare Stoudemire, which turned out to be a good move.
By mid-season, Carmelo Anthony was on the roster and the Knicks were looking good heading into the playoffs.  And then they were swept by the Celtics and looked pretty awful.
Once this season started, there were high expectations by the fans, including me, as the Knicks were supposed to be a dominant team in the Eastern Conference.  That didn't happen, even as Linsanity came and went, and were 18-24 once D'antoni was gone.
The thing with D'antoni was that he never focused on defense, and his team suffered.  The same thing happened with his dominant teams in Phoenix, but could never get to a championship because they didn't play defense.
Carmelo couldn't stand him and neither could Amare.  The whole team was unraveling fast, so something had to be done.
And look at the Knicks now.  Ever since D'antoni was let go, the Knicks are 3-0 under Mike Woodson, who Stoudemire calls "a true players coach," a quality D'antoni did not have.
The Knicks are back in the playoff race and have beaten quality opponents the last few games.  Let's hope they continue this success, because each game is crucial.