When Tyson Chandler signed with the Knicks in the offseason, I was pumped up to say the least.  The Knicks had been lacking a dominant center in their starting lineup since, I don't know, Patrick Ewing?  And that was way too long ago.
He came to the Knicks because he believed they had a great roster, and enough to bring home a championship to New York City for the first time since 1973.  The Knicks have been a dominant team for most of their franchise history, not counting the atrocious Isiah Thomas years.
The Knicks struggled a lot during the season, including an 8-15 start followed by a 6-game losing streak once "Linsanity" was over with.  That left them at 18-24, but Chandler still thought this team had what it takes to win a ring.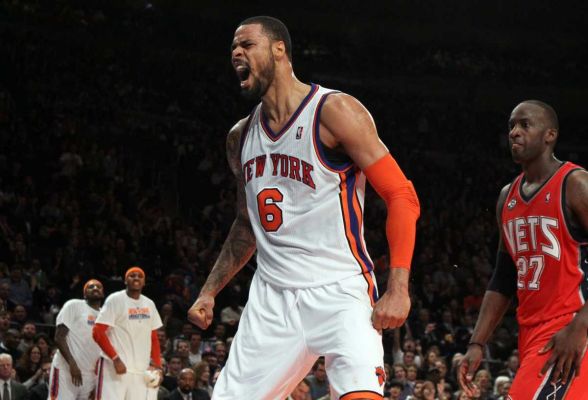 At the time, Chandler said, "In all honestly, I still feel like this is a team that can win a championship. I feel like we definitely have the pieces. I feel like we haven't come together yet. It's a process."
Everything is now coming together.  Since Mike D'antoni got fired and Mike Woodson took over, the Knicks have won 6 of 7 games, and are now 24-25 after last night's 101-79 win over the Pistons.  This currently leaves them in the 8th seed in the Eastern Conference, the final playoff spot.
Their only loss during this stretch came against the struggling Toronto Raptors, where Chandler claims came on a night where they didn't come out with enough energy.  So on the flight back from Toronto, the Knicks' manager of player security, who the players call "Big Max," had the idea that Chandler should bring his championship ring to the game Saturday night against the Pistons for extra motivation.
Chandler's energy in his pregame speech carried over on the court as his 15 points and a season-high 17 rebounds helped New York maintain its 1½ game lead over the Bucks for the final playoff spot in the East.
Here is some of the players with their reaction:
Jeremy Lin: "Definitely something that we want to start thinking about and building towards."
Carmelo Anthony: "They're inspiring. They're motivating just to see that. It gives us something to look up at, to look forward to. It lets us know where we want to be at and how much work it's going to take for us to get there."
Amare Stoudemire: "I'm a visual guy, so I love to see it. So whenever you've got those types of trophy posters over your locker, it gives you that visual that you can achieve that goal. It's great to see."
Iman Shumpert: "If you can't get motivated by that, I feel sorry for you."
This is the type of energy and response a fan wants to see from the Knicks.  They are back on track, but know they are still fighting to keep that spot in the playoffs or even move up, which is what I would like to see.
On Monday night against Milwaukee, the Knicks know they have a tough stretch coming up.  The Bucks sit 1.5 games behind the Knicks for the final playoff spot, so this is a must win game.
"We are fighting for that eighth spot," Anthony said. "We need that game. We are going to do everything in our power to get that game.
Stoudemire agreed completely with his star sidekick.
"It's very important for us," he said. "We are trying to make a run and do something special."
Let's make it happen, Knicks.  I've been waiting too long for something spectacular to happen with this team and organization, so it's time to do some damage and win big games.