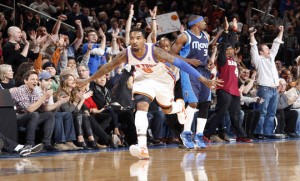 Jeremy Lin and the Knicks is all what people talk about (including myself), but as a Knicks fan, we should be talking about them right now.
On Sunday afternoon, Lin and the Knicks took down the reigning NBA champion Dallas Mavericks in an exciting, action-packed game that went back and forth in the second half.
Coming off the first loss of the Jeremy Lin-era against the Hornets on Friday, Lin knew this game would be the toughest challenge he would face as the starting point guard for the Knicks, and responded with another dominant performance.
Jeremy Lin had 28 points and a career-high 14 assists, Steve Novak made four 3-pointers in the fourth quarter and the New York Knicks ended the Dallas Mavericks' six-game winning streak with a 104-97 victory.
In this game of wild momentum swings, the Knicks reeled off 17 straight points in the first quarter, fell behind by 12 in the third, then pulled it out to beat the Mavericks for only the third time in the last 20 meetings.
Midway through the fourth quarter, the Madison Square Garden crowd erupted after three straight three-pointers by Steve Novak, and huge buckets by former Denver Nuggets forward and newly signed J.R. Smith, who became a free agent last week after getting out of his basketball contract in China.
For us Knicks fans, this was a huge asset to an already star-studded team.  The Knicks have won eight of their past nine games without their best player, Carmelo Anthony, who comes back Monday night against the Nets.
So picture this: The starting lineup on Monday will be Carmelo Anthony, Amare Stoudemire, Jeremy Lin, Tyson Chandler, and Landry Fields.  Coming off the bench are playmakers J.R. Smith, Iman Shumpert, Bill Walker, Steve Novak, and Jared Jeffries.
The question come Monday will be if Carmelo Anthony can adjust to Jeremy Lin, which he's said he will be able to.  If the two can co-exist, the Knicks will be even more dangerous than they are now.
http://www.youtube.com/watch?v=Om_cG5hlC1o