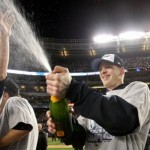 For New York Yankee fans, it's about time.  The team agreed Friday to trade much-maligned pitcher A.J. Burnett to the Pittsburgh Pirates for two minor leaguers, a deal that ends a very up-and-down tenure for Burnett with the Yankees.
I hope that a smaller market, National League team will help turn his career around.
It wasn't all bad, however.  If it weren't for him, there may not have been a World Series ring for the 2009 New York Yankees.
On October 29, 2009, the Yankees needed a win in game 2 of the World Series.  After being manhandled by Cliff Lee and the Phillies in game 1, the Yankees could not afford to go down 2-0 in the series.  Burnett had the game of his career, throwing seven innings of four-hit, one-run, nine-strikeout ball that night, as the Yankees won 3-1.
Burnett's victory in game 2 helped propel the Yankees for the rest of the series.  From then on, the rest is history, as the Yankees won the series 4-2, and won their 27th World Series title.
The rest of his Yankees tenure went downhill from there, being notoriously inconsistent and wild while having multiple blowups and implosions.
When watching Yankee games the past few years with friends, family, and other, Burnett was always tough and extremely frustrating to watch.  The wild pitches, the walks, the meltdowns–just terrible.
But if that giant contract helped win the Yankees a World Series title, it may have been a bargain.
So was that 5-year, $82.5 million worth every penny?  On that night in October, it definitely was.