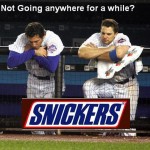 Everyone in New York knows the Yankees ARE New York's baseball team.  The same can't be said about the Mets.  Unfortunately for the Mets, they have the worst ownership in all of sports and have been horrible the past few seasons.
This past offseason, they let their star player, shortstop Jose Reyes, walk in Free Agency, and have not added any good pieces to add to the lineup.  In all likelihood, they are doomed for this season and the next few.
Last year, the Mets hired GM Sandy Alderson to turn around the team.  What's funny about the Mets is that their own GM recently made fun of the team's poor ownership, led by Fred Wilpon, and knows they aren't going to do much for a while.
On his twitter account–@MetsGM, Alderson is quite the comedian.  The Mets GM continues to fire tweet after snide tweet at the team that pays him, which makes it a thousand times funnier than satire ever could be.
When looking through his tweets, yes it is wrong to bash your team.  However, if I were the GM for the Mets, I would also want it to make it known that it sucks to work for them.
Between the whole Bernie Madoff-Fred Wilpon controversy, Fred Wilpon owning a New York baseball franchise with a sub-$100 million payroll; David Wright, Johan Santana and Jason Bay cannibalizing more than 60 percent of it; fans nauseous already about this season and the future of the Mets; Bernie Madoff sitting in a North Carolina prison for the next 150 years; and with Citi Field ready to sit half-empty, angry fans, the Mets are screwed.
Other than that, everything is fine there.