Yankees ace CC Sabathia has proven time and time again that he is one of the most dependable pitchers in the game of baseball.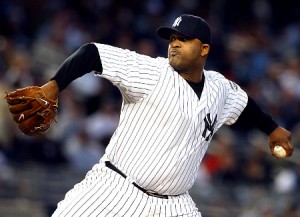 In today's game, he needed to deliver and succeeded.
The bullpen has been dominant so far this season, but the same can't be said about the starting rotation, which is ranked near the bottom of the league in ERA.
Sabathia steadied New York's rocky rotation with eight sharp innings, Alex Rodriguez passed Willie Mays for eighth on the career RBIs list and the Yankees beat the Detroit Tigers 6-2 on Sunday despite leaving an astonishing 14 men on base in the first six innings.
"It just feels good to go out there and give those guys a rest," Sabathia said of a bullpen that had thrown 73 1/3 innings entering the game, third most in the AL.
Curtis Granderson homered in the fourth inning — barely. He had to stop between second and third to look back after center fielder Austin Jackson nearly made a spectacular catch above the wall in right-center.
Granderson also walked with the bases loaded to force in the game's first run in the second, one of a career-high seven walks by Detroit starter Max Scherzer (1-3).
The Yankees walked nine times and left 15 on base overall, but won the three-game series. Detroit has lost eight of 10.
Andruw Jones homered in the eighth. He pinch ran for Nick Swisher in the third after the right fielder left with a tight left hamstring following a walk.
Swisher has a low grade strain and will be out several days. Giradi says it's not serious enough for a trip to the disabled list.
With New York's bullpen taxed by Freddy Garcia's horrid 1 2/3 innings start on Saturday, Manager Girardi said before the game, "I would love to get a good seven or eight strong innings out of CC."
Sabathia (3-0) came through. He gave up a double in the first then retired 10 in a row before Prince Fielder, his former teammate at Milwaukee, hit his first home run in the Bronx and third this year overall with two outs in the fourth.
The big lefty had little trouble with the Tigers — all except for Fielder and his nemesis Miguel Cabrera, who hit a long RBI double in the sixth inning to close it to 3-2. Cabrera is 10 for 19 against Sabathia.
Sabathia struggled early to a 5.27 ERA on a staff with a 6.37 ERA, 29th in majors, entering Sunday. Garcia was dropped from the rotation before Sunday's game and rookie David Phelps will get a start before the expected return of Andy Pettitte in mid-May.
But Sabathia was sharp this time, yielding four hits and striking out eight. He walked two.
"When you have your ace on the mound and you talk about trying to win all the series and you're tied 1-1 you feel pretty good going into that day," Girardi said.
Let's hope the rest of the rotation get going as well.